Fight 2 Win has made a name for itself not only for its level of production and the sheer number of events put on each year, but also for the representation it provides for the jiu-jitsu community.
This weekend, the promotion will host another important match when Gracie Barra's Mike Sanchez faces off against 10th Planet's Luke Perry. On paper, the match doesn't seem to be particularly noteworthy — Sanchez and Perry are blue belts, and their match is scheduled long before the exciting main event between Nathiely de Jesus and Gabi Garcia. But this match is, in fact, a landmark occasion for the company — Sanchez will be their first blind competitor.
Initially, the match was going to move forward as normal, with Perry — who is sighted — and Sanchez rolling against each other just as they are. But then, Perry put up a playfully competitive post about the match (and defended his opponent from people who'd poked fun at his matchup photo), and Sanchez couldn't help but chime in with a challenge of his own.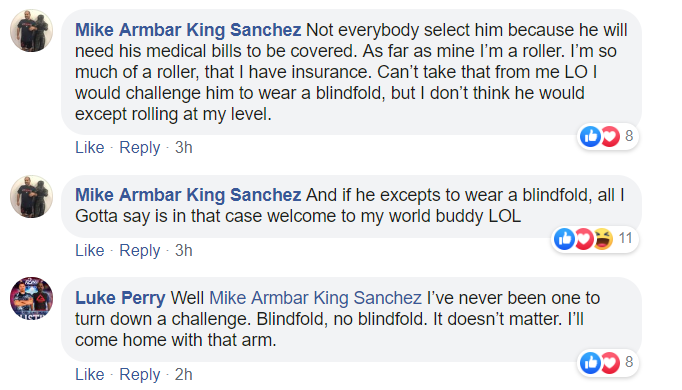 F2W CEO Seth Daniels was very excited about the match itself and Perry's decision to wear a blindfold. In fact, Daniels will be refereeing the match himself, and he told the Jiu-Jitsu Times that he has experience reffing matches between blind judokas and wrestlers.
Sanchez vs. Perry will take place this weekend at Fight 2 Win 121 in Austin, TX. You can stream their match and many others live on FloGrappling.