After a very exciting few days, the climax of the 2019 UAEJJF World Pro is nearly upon us. Friday will be dedicated to all of the black belt finals matches, which will take place one by one in the center of Abu Dhabi's Mubadala Arena. While anything is possible (and we've already seen a few upsets), there are some clear favorites — and some not-so-clear favorites — in the running for gold this year.

Here are all the men vying for the championship this year:
56kg – Hiago George vs. Carlos Alberto Da Silva
Carrying the momentum of wins at this year's Pans and Euros, George is hoping to move a couple places further up the podium at the World Pro this year after winning bronze last year in the 62kg category. To get there, though, he'll have to defeat the reigning 56kg champion. George submitted his way to his place in the finals today, but da Silva isn't going to give up a second World Pro title so easily.
62kg – Joao Batista [Gabriel] De Sousa vs. Joao Miyao
De Sousa and Miyao both cruised their way to the finals this year, but their smooth sailing stops here. Miyao is well established as one of the best and most famous jiu-jitsu competitors of his generation, but de Sousa is a force to be reckoned with. He won the World Pro as a brown belt last year not long before earning his black belt, and even an athlete as dominant as Miyao will have to work hard and be extremely careful to pull off a win over this rising star.
69kg – Isaac Doederlein vs. Paulo Miyao
This isn't the first time Doederlein has faced Miyao. The two have matched up several times, and so far, Miyao has bested Doederlein in every one of their meetings. Miyao also won the World Pro last year, and this (in combination with his previous wins over Doederlein) makes him the clear favorite to win this time around. However, if Doederlein can learn from his past mistakes with Miyao, he might just be able to pull off a serious upset in Abu Dhabi.
77kg – Oliver Lovell vs. Tommy Langaker
Lovell claimed one of the day's upsets when he took Levi Jones-Leary out of the running early with a kneebar. Lovell went on to remove Ffion Davies' coach Darragh O'Conaill from the running as well, and we're expecting an exciting match between him and Langaker. The latter competitor has been consistently medaling at some of the world's top competitions, including Worlds and Pans, and while many fans were anticipating seeing him and Jones-Leary battling it out for gold, Lovell has proven he's more than worthy of the opportunity.
85kg – Rudson Mateus vs. Faisal Al Ketbi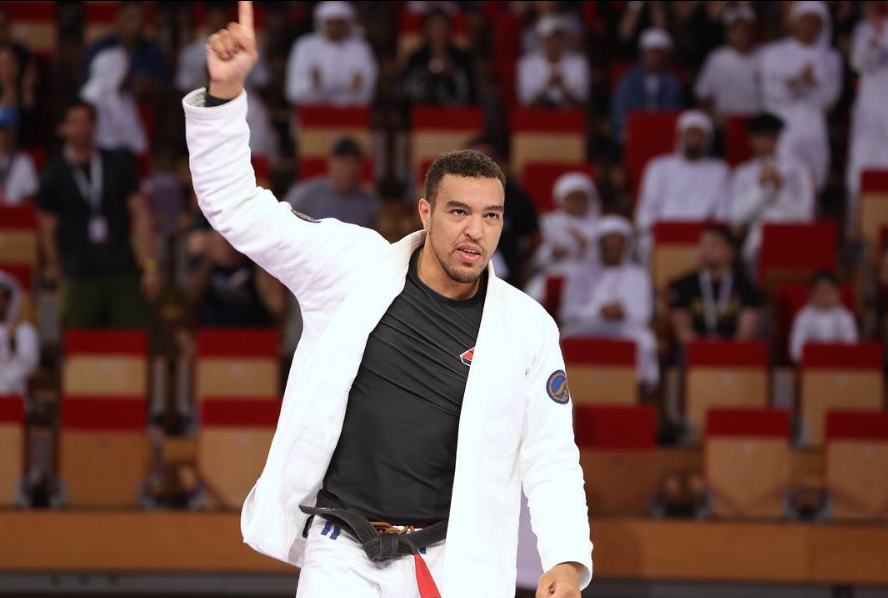 Faisal Al Ketbi is the UAE's shining star in jiu-jitsu. He won silver at last year's World Pro, and this year, he beat Devhonte Johnson and DJ Jackson on his way to the finals. He'll be facing 2019 Euros champ Rudson Mateus, who had to defeat William Dias and 2019 Masters World Pro runner-up David Willis to make it to this point. This match will be huge for Al Ketbi as he competes for gold to the sound of deafening cheers from his fellow countrymen and women, and given his dominant performances throughout the day, he might just be able to gain the edge over the formidable Mateus.
94kg – Kaynan Duarte vs. Adam Wardzinski
In what is certainly one of the most exciting finales in the male division, Atos standout Duarte (who beat Erberth Santos earlier today) will face Wardzinski (who famously choked out Leandro Lo at Pans this year). Duarte has bested Wardzinski in each of the three matches they've had against each other so far, and this combined with he's only lost one match since October make him a narrow favorite to win gold. Given how close their last match was, though, Duarte can't afford to make even the tiniest mistake with his opponent. Wardzinski has become somewhat of a regular in the World Pro finals, and this could finally be the year he takes home the gold.
Watch what Wardzinski had to say about his matches for the day:
110kg – Joao Gabriel Rocha vs. Yahia Al Hammadi
Emotions will be running high during the last final of the day. A win from Al Hammadi would bring immeasurable pride and joy to the UAE, and he'll be carrying the weight of the hopes of his entire nation on his shoulders as he rolls for gold. A win for Rocha, though, would be a fairy tale ending to his incredibly inspirational story. Rocha very recently won his five-year-long battle with cancer, getting the news just days after defeating Marcus "Buchecha" Almeida at BJJ Stars. He was all smiles after winning the 110kg Brazilian qualifier, and winning World Pro gold would be incredibly emotionally significant for both him and his fans.